At Just For Kids in Chicago, we offer more to your children than just early childhood education and after school programs. Our center uses an old church, allowing us to offer a wide variety of learning opportunities for children in Chicago.
In today's post, learn more about some of our enriching programs, and contact our team to schedule your children at Just For Kids today!
Our Learning Opportunities 
We've found that learning opportunities can extend beyond the classroom. Using the space of an old church, we're able to provide a safe and enriching experience for children of all ages.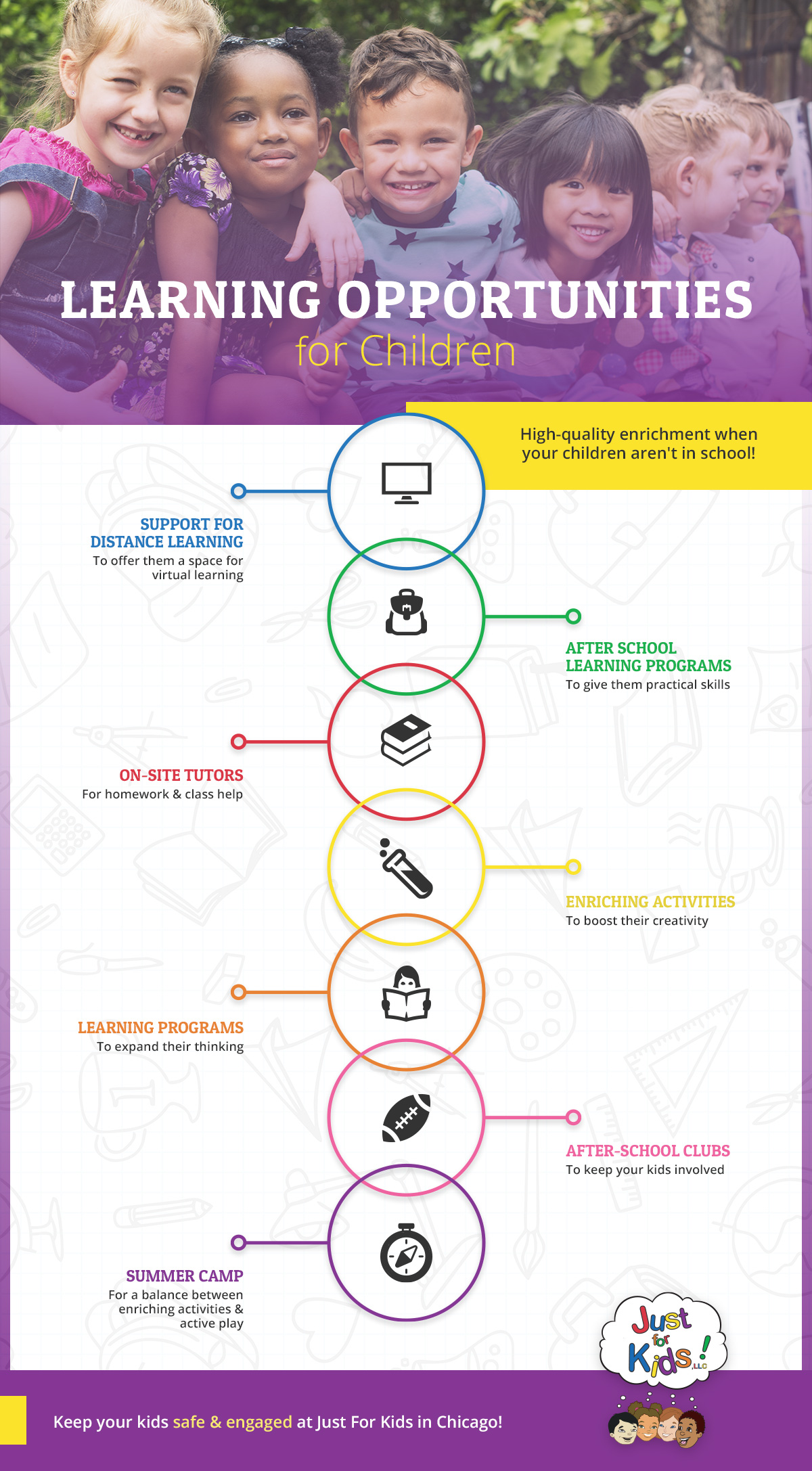 Distance Learning Support
Over the last year, schools have shifted towards distance and virtual learning, leaving parents and children adapting to those changes. At Just For Kids, we have set up classroom spaces where you children can work through their virtual coursework. This means that if you have to work or don't have a space for your children to complete their virtual learning at home, they can spend the day at Just For Kids. 
You can learn more about the benefits of virtual learning in our previous blog post.
On-Site Tutors
Our on-site tutors provide additional support for your children, whether they are working through their distance learning curriculum or working on homework during one of our after school programs.
Since Just For Kids is a licensed school for K–12, our tutors are qualified and credentialed, providing your children with any educational support they need 
Before and After School Programs
If you're looking for a way to keep your children engaged and safe when they're not in school, we offer a wide selection of before and after school programs. Through these programs, your children can work on any homework they have or decompress from school with other children their age. 
We also offer transportation to and from school, so you don't have to worry about getting them to our center, along with child care during school breaks or holidays.  
Clubs and Activities
Part of our after school programs include our clubs and activities. We understand how important it is to get your children involved, so we offer a wide range of clubs so every child can find something they love. Our current clubs include: 
Dance 

Sports

Fashion

Cooking

Action Figures

Art

Robotics

Karaoke

Jump Rope

Carpentry

Scrapbooking

Pom-Pom/Cheerleading 
Find the perfect club for your child and enroll them today! 
Learning Programs
We want to make sure your children are constantly learning and engaged when they're with us. Beyond our clubs and before and after school programs, we offer other learning programs, including College Readiness, Girls on the Run, 4H, and Safe Sitter. Our entire team is dedicated to helping each child develop practical life skills, celebrating any success and milestone they meet! 
Summer Camp
When school's out for the summer, send them to Just For Kids for summer camp! Our summer camp combines fun and enriching activities with active play and ongoing learning opportunities. To make it as easy as possible for your child to enjoy our summer camps, we offer transportation and provide meals. Get your children enrolled for our upcoming summer camp! 
Enroll Your Children at Just For Kids 
As you can see, Just For Kids is here to support Chicago children with our learning opportunities, ranging from preschool and summer camp to after-school programs and virtual learning support. Give your children the best learning opportunities at Just For Kids in Chicago.
To learn more about our learning opportunities and after school programs, read through some of our previous blog posts: